INTRODUCING: ZANDORA!
"In the world of Gig, few mortals have ever seen the Eternals. Only the Hierophant of Aurion is ever granted a personal audience with the Eternal court.
For most, these deities are abstract concepts...the Emperor is honor; the Empress, victory; the High Priestess, mercy; the Knight is valor. No one expects to encounter them in person.
Today that changes."


Although most easily paired with another melee hero, Zandora has the speed and versatility to lead any team to victory. An Eternal who has chosen to walk among mortals,
Zandora
can act as melee bruiser or a support hero for her team. Her skills allow her to switch between three different auras that provide speed, healing, or a damage boost to herself and allies around her. Each strike of her lance renews her current aura, allowing Zandora and her companions to stay in fights longer and to rapidly switch tactics whenever the situation requires. When things get tight, her focus,
Vow of Shielding
, provides a defensive shield to all allies around her.
Try her out in the Practice Arena before unlocking her in the store! Founders unlock Zandora for free, and can play with her right away!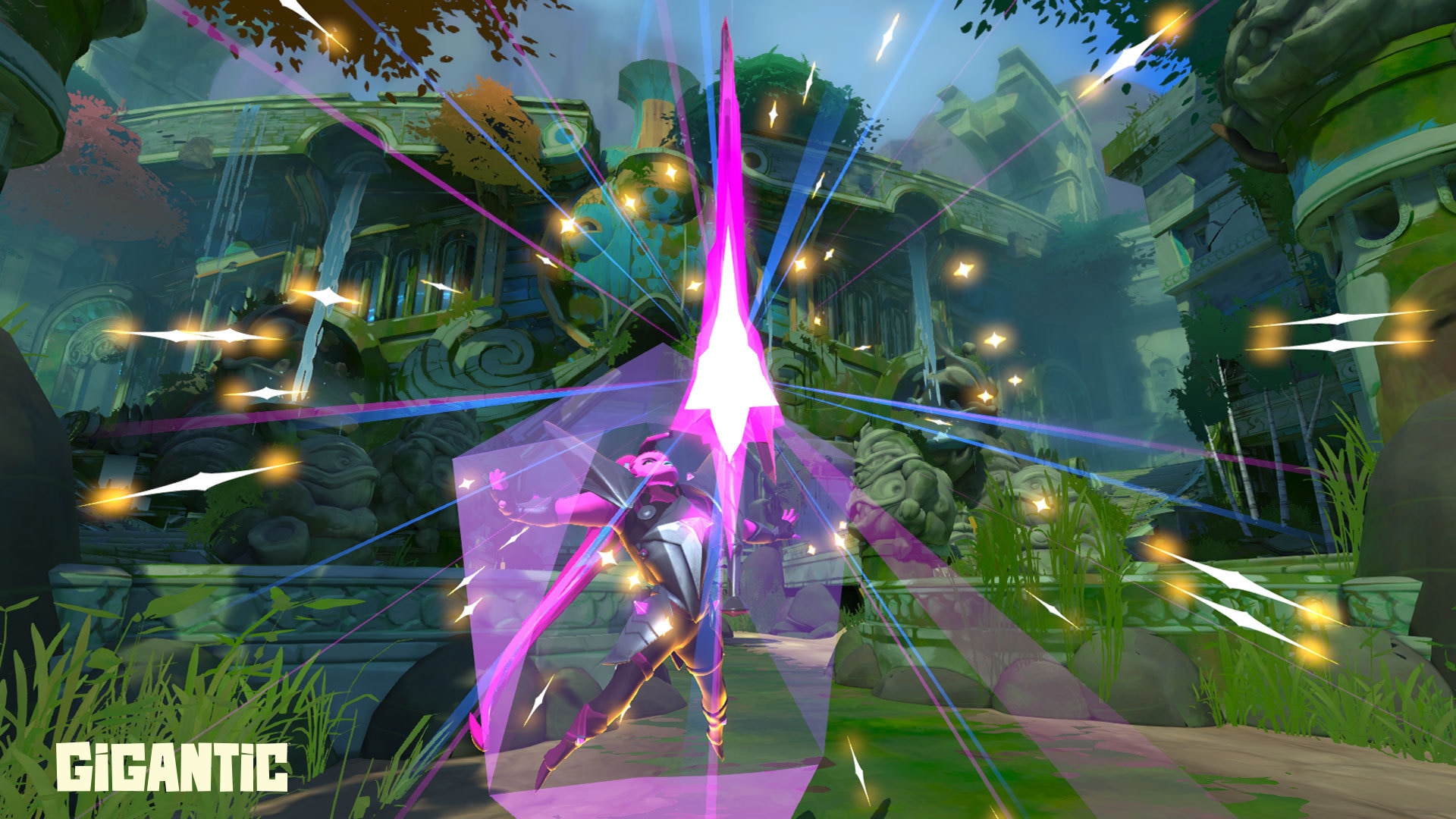 ETERNAL LIGHT WEAPONS!
"The gifts of the Eternals came from the City of Gods itself. Only the worthy could wield them."


After reaching Hero Mastery Rank 10 with a hero,
Eternal Light
weapons will be unlocked for that hero in the store. These prismatic weapons come with their own special effects to show off your mastery with the hero and favor with the Eternals!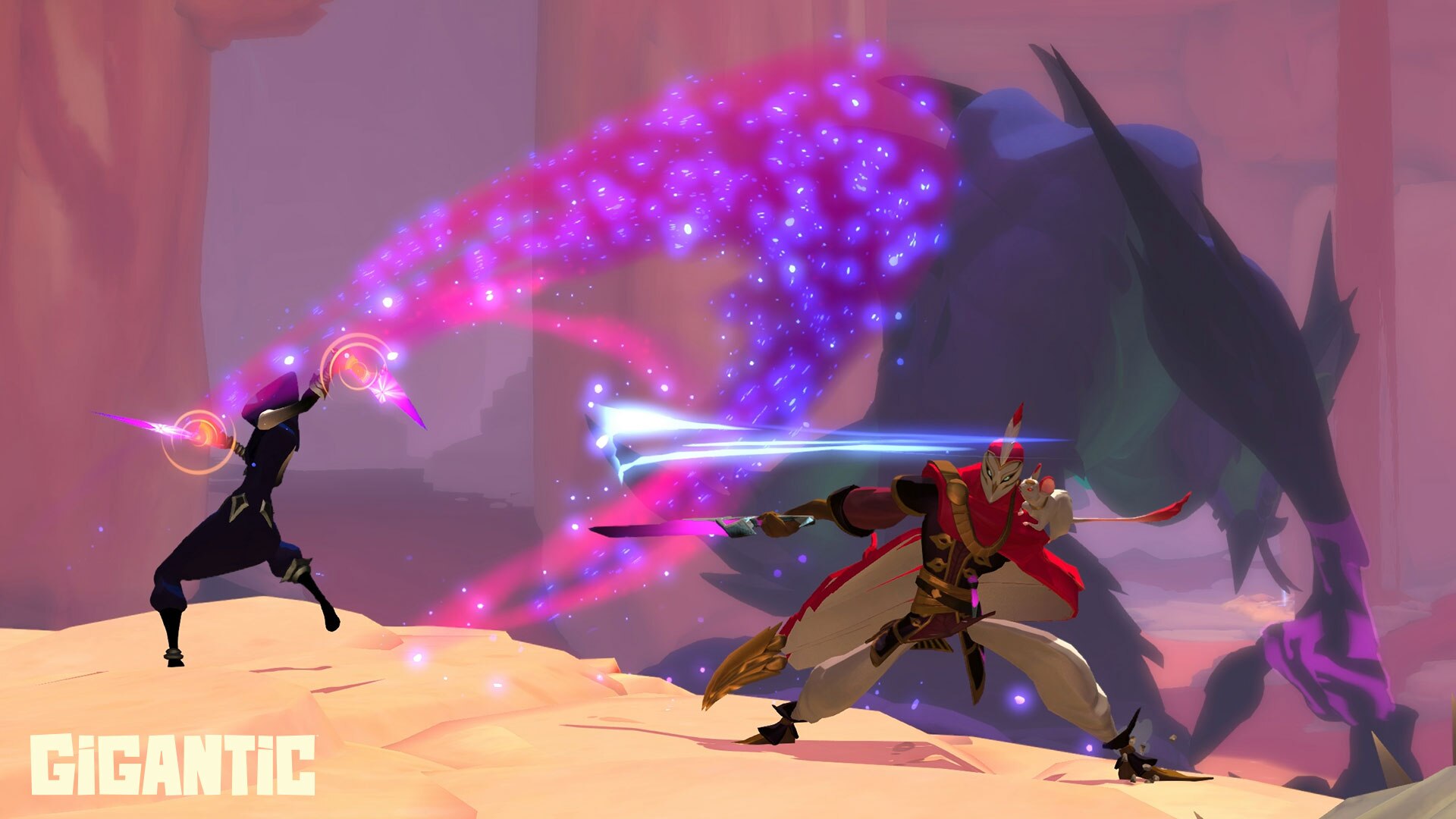 GUARDIAN DAMAGE PREVIEW
Gigantic is meant to be an intense mix of teamwork, player skill, and strategy. One key strategic element is knowing whether an attacking guardian will deal a wound on its own or if heroes will need to try to go in for the wound. This will no longer be a guessing game. We've updated the guardian health UI to show, in advance, the amount of damage the vulnerable guardian will take as a result of the rampage.
The amount of health that will be lost – which is determined by the amount of shield the defending guardian has – will now flash until the guardian is struck.
If the guardian will take enough damage to finish the wound, the heart on the guardian's health bar will also flash.
KNOWN ISSUES

Zandora: Gigantic's newest hero is unfortunately missing the icons associated with her Level 5 skill specializations. These will be properly implemented in an upcoming build.
Eternal Dawn Bundle: The bundle incorrectly states that the Storm Drake will be available on March 2, when it will actually be available for purchase on February 23.
You can find a full list of known issues with the beta build over on the official forum. We'll keep this list up-to-date with the biggest issues (and solutions) that are reported during the Open Beta:
We'll also be tracking the most impactful issues - as well as any workarounds or known solutions - on the official subreddit:
GENERAL UPDATES

GENERAL
Fixed a bug where crews would not be able to re-enter matchmaking if a member left the crew during matchmaking.
Fixed an issue where certain players would encounter long loading times on the initial splash screen.
Fixed a crash where pressing ESC and quitting out of a match would result in a client crash.
AUDIO
Decreased the overall game volume by 3db (25%) - make sure to reset your sliders!
Adjusted audio levels so that enemy heroes are slightly louder than teammates.
UI
The in-game friends list is now sorted alphabetically to make it easier to find and party with your friends.
Fixed a bug where friends on the in-game friends list would always appear online regardless of their status.
Fixed a bug where the crown and ruby totals displayed during the end-of-match screen would not be consistent with the correct totals displayed in the game lobby.
Fixed a bug where boosts would not appear to be consumed in the end-of-match summary after winning a match.
Fixed a bug where an incorrect number of bonus fortune cards would be displayed rather than the actual number of free draws.
Fixed a bug which prevented users from rearranging their creature loadout when using an Xbox controller.
Fixed a bug where all summoning point icons would display as enemy points after disconnecting and reconnecting to a match.
Fixed a bug where players would see "Building Teams..." in the hero lobby rather than the countdown timer to the match.
Fixed a bug where players would see their original gamertag on the hero confirmation screen rather than their current gamertag.
We've reorganized the hero selection screen to more clearly highlight information about the heroes you have available. This includes everything from the hero rank to the number of fortune cards you have unlocked for the hero.
On the hero selection screen, you will now see the selected hero's rank, the amount of experience needed for the next rank, and the number of active fortune cards for that given hero.
UI: CROSSHAIR VARIANTS
If you've ever played a shooter, you probably noticed that your crosshairs change when you swap between different weapons. We've now added a similar feature as a playability improvement to
Gigantic
. This change will be most evident for heroes who change weapons or states – such as Imani (scoped vs. non-scoped), Beckett (pistol vs. cannon), and HK-206 (fortified vs. non-fortified) – though the crosshair change will also be evident based on whether you're playing a melee or ranged hero.
As this is the first iteration of the feature, we expect plenty more adjustments to the exact look and usage of the various crosshairs in the future. We do not have immediate plans for allowing players to choose and customize their crosshairs, but we do know that you'll want that functionality eventually.
Your crosshair will now vary based on your hero and the skills you are using.
Being disrupted (interrupted, stunned, pulled, launched, dazed) will now turn your crosshair into a black X.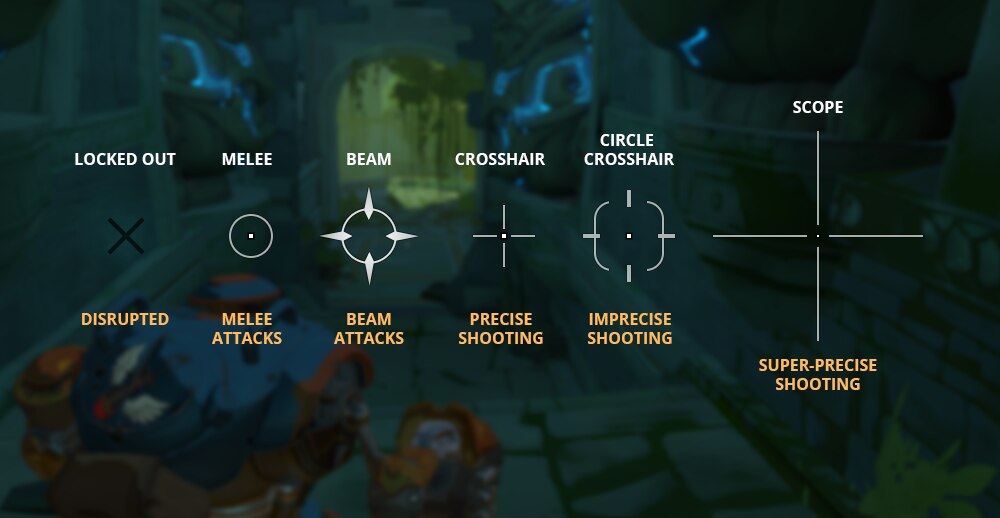 HONOR BONUS
We are continuing our efforts toward improving games where one or more players leave or disconnect from the match – this while also decreasing these occurrences in the first place, of course. In addition to the respawn time reduction for being down a player – which gives teams a better chance to stay competitive when someone leaves – we wanted to reward those who continue to play all the way through to the end of the match.
When one team loses a player for an extended period of time, the Honor Bonus kicks in for any players who remain in the match. This bonus provides extra prestige and crown rewards at the end of the match.
Prestige and crown bonuses increase for each team member who leaves the game. If you win the game while you have an active Honor Bonus, you will receive even more rewards.
The strength of your Honor Bonus is displayed on the scoreboard screen.
CONTROLS
Fixed a bug where controller users could get the scoreboard stuck on the screen by opening the scoreboard and upgrade menu at the same time.
Fixed a bug where the D-pad would not function properly for controller-users navigating the hero selection screen.
SHOP
Introducing the
Eternal Dawn
bundle! This discounted bundle comes with all the heroes, creatures, and skins that will be released throughout the Eternal Dawn update. You can unlock them NOW at a discounted price by picking up the bundle today, or can wait for them to release over the next several weeks:
February 23: Zandora + 2 color variants, Zandora's "Champion of Aurion" skin and 2 color variants
February 23: Storm Drake (Creature)
March 9: Beckett's "Champion of Aurion" skin and 2 color variants
March 16: Vadasi's "Champion of Aurion" skin and 2 color variants
March 23: Voden's "Champion of Aurion" skin and 2 color variants
We've also made a few quality of life changes to the shop:
Introducing a new shop layout to quickly find the heroes, creatures, skins, and boosts that will help you get the full Gigantic experience!
We've added a new 'Creatures' section to the shop, where you can find and unlock all the available creatures using your in-game currency or rubies.
Fixed a bug where players would have to select a hero skin multiple times to preview the skin or color variant on their hero.
Fixed a bug where selecting the 'Unlocked' filter in the shop would display several placeholder images in the heroes list.
Fixed a bug where players could only view 13 total items for each hero in the store.
GAME RULES

GAME RULES: HEALTH REGENERATION
Health regeneration starting at 0 health per second made the first few seconds of being out-of-combat feel a little sluggish. It also felt pretty punishing to re-enter combat (either from taking damage or attacking) only to start the regeneration process at 0 hp/s again. These changes smooth out the numbers a bit without affecting how fast you regenerate from low health back to full.
Health regeneration now starts at 30 hp/s instead of 0 hp/s.
Reduced the max health regeneration from 300 hp/s to 250 hp/s.
Reduced the ramp-up time of health regeneration from 15 seconds to 12 seconds.
GAME RULES: FOCUS GENERATION
Since focus was generated based on a flat amount of damage absorbed, tankier heroes were gaining focus faster than squishier heroes due to their health pool being larger. We wanted to make this more consistent across all the heroes, so we made focus gain dependent on a hero's total health pool rather than a set amount of health lost. This change will result in a slight decrease in focus gain from higher-health heroes, and a slight increase for lower-health heroes.
Adjusted the way focus is gained when absorbing damage: from 1 focus for every 50 damage you take to 1 focus for every 2.5% of your health lost.
GUARDIANS

GENERAL
Adjusted the big attack (the energy pillars) used by both guardians to push up instead of launching enemies.
Guardians can no longer be "pierced" by projectiles. Projectiles fired into a guardian will now be destroyed or blocked by the guardian.
Fixed a bug which allowed heroes to hit vulnerable guardians from behind using beam attacks.
Fixed a scenario where the guardians would fail to reset after a rampage.
Fixed a bug where guardians would no longer be visible if a player disconnected and reconnected to the match while the guardian was rampaging.
Fixed a bug which prevented a defending guardian from properly receiving shields when vulnerable.
We've made some significant adjustments to the guardian logic when an enemy is nearby:
Guardians will now wind up their attack for 1 second, then unleash it on enemies in range for 4 seconds. If an enemy is still in range at the end of their attack, they will transition to their big attack.
When close to an enemy guardian, it will now perform a melee attack that deals high damage in a large area and dazes enemies hit by the attack.
We've made some big adjustments to guardian health and shield values in the game. These adjustments make it easier for teams (and for individual players) to break through the enemy guardian's shield faster, allowing them to deal more damage to the guardian itself. To account for this, we've raised the guardian health as well as the damage guardians deal to each other during the rampage. This should make it easier to get meaningful damage on the guardian, even if you don't end up taking the entire wound.
Increased the total guardian health from 18,000 hp to 24,000 hp.
Adjusted the individual wound health from 4000/6000/8000 health to 6000/8000/10000 health.
Increased the amount of damage dealt by a rampaging guardian from 2000 - 3000 damage to 3000 - 4500 damage, based on the amount of shield built by the defending team.
Shield values when a guardian becomes vulnerable decreased from 0 - 1500 to 0 - 700.
The amount of shield gained when a guardian becomes vulnerable is now determined in increments of 10 shield, rather than every 25 shield generated. The minimum and maximum shield values are unchanged.
LEIRAN (GRIFFON)
Fixed a rare bug where Leiran would fail to return to her side of the map following a rampage.
GRENN (NAGA)
Fixed a rare bug where Grenn would fail to provide his team with a speed boost before starting his rampage.
SUMMONED CREATURES

GENERAL
Improved the responsiveness of meditating creatures when power orbs appear at their summoning circle.
Fixed a bug where players could body-block creatures to prevent them from collecting their power orbs.
Fixed a bug which prevented creatures from returning to their summoning circle to meditate.
Fixed a bug which prevented adult creatures from capturing power orbs faster than young creatures.
Fixed a bug which prevented creatures from returning to their home point when too far removed from their area.
Fixed a bug where a creature would get "stuck" if summoned when both a power orb and enemy hero were present in its area.
Baby creatures have been a little too tough to kill with a single hero, and even with two heroes in certain cases. On top of this, recent changes which allow creatures to summon at full health make it very difficult to kill them before they're done summoning. As such, we've made some adjustments:
Other than Obelisks, we've reduced the health of all baby creatures by 1000 hp.
Creatures no longer get +10 armor when summoning.
CERBERUSES
The teleport barrage skill of the
Shadow Cerberus
was available to the creature far too often, making it exceptionally difficult to deal with them as they dodged around the battlefield.
Increased the cooldown on the Shadow Cerberus' teleport barrage attack from 10 to 15 seconds.
CYCLOPES
Fixed a bug where certain walls would not be removed upon the death of the accompanying Cyclops.
Fixed a bug where certain walls would not be destroyed when transitioning to the Clash.
Fixed a bug where the team color of the walls would not draw properly in some circumstances.
Fixed a bug where Cyclops walls could be blocked from spawning by placing a pet on top of it while open.
Fixed a bug where the Young Cyclops would have trouble hitting enemies on ramps.
Fixed a bug where the targeted ranged attacks of both the Adult and Young Cyclops would not reliably hit enemies.
DRAKES
Fixed a bug where young drakes would play young bloomer sounds when interrupted, stunned, launched, or dazed.
Fixed a bug where the burning damage of both the Young Fire Drake and Adult Fire Drake would stack with itself.
OBELISKS
Obelisks are no longer immune to disruption.
Fixed a bug where the Obelisk's strong attack could hit allies near the enemy player it's attacking.
BATTLEGROUNDS

GENERAL
Fixed a bug where capture points would be displayed as enemy points after disconnecting and reconnecting to a match.

Fixed a bug where Imani would, on occasion, bunny-hop when leading the player through the battlefield.
Fixed several bugs where Imani would get stuck while moving through the tutorial map.

Fixed several exploitable locations where creatures could be killed without any risk to the player.
Cleaned up several collision issues on the ledges overlooking the center of the map outside of Point C.
Implemented several pathing and collision fixes for AI-controlled characters throughout the map.

Fixed a bug which made it difficult for AI-controlled beings (Sir Cador, Voden's clone, etc.) to navigate on ramps in the Clash arena.

Made several pathing and collision fixes throughout the map to help AI-controlled characters navigate the space.
Fixed a bug where players would fall to their death if standing on the airship during the transition to the Clash.
HEROES

GENERAL
Fixed a bug where Aisling and Griselma's focus would fail to fire if used on a pinned guardian.
Fixed a bug where using an invisibility skill while coming out of a transformation - such as Pakko's Frigid Breath or Uncle Sven's Chaos Quaff - would result in the hero disappearing permanently.

E/RB // JETPACK
Rocketpack upgrade: Fixed a bug where activating the skill with the cannon equipped would also give a brief speed boost buff.
F/LS+RS // AIR STRIKE
Fixed a bug which prevented Beckett from using a level 3 Focus attack when her cannon was equipped.

F/LS+RS // S.W.A.R.M.
Fixed a bug where HK-206's focus targeting could snap to an invulnerable guardian.

LMB/RT // REACH OUT
Touch of the Master upgrade: Now adds life steal to the melee attack by default. Hitting an enemy with your melee attack now steals 35 health per hit.
RMB/LT // PORTAL BEAST
Lowered the cooldown for Portal Beasts (when summoning or upon their death) to 9 seconds.
Q/LB // RIFT ZONE
Increased the damage dealt by the skill and all damage upgrades by 25%. Note that this does not affect the damage dealt by the cracked armor effects.
SKILL SPECIALIZATIONS
Phase Variance upgrade: Fixed a bug where the upgrade would increase your speed by ~20% instead of the intended 50%.

F/LS+RS // GROUND AND POUND
Fixed a bug where The Margrave's focus upgrade, Pound of Armor, would grant bonus armor to the friendly guardian.

RMB/LT // ATTRACTOR BEAM
Drawn to Life upgrade: Fixed a bug where enemies over 33% health would not take any damage from the skill.
F/LS+RS // DEATH RAY
Fixed a bug that would result in her focus failing to fire when triggered.

LMB/RT // FROSTY SWIPES
Fixed a bug where Pakko's Defensive Swings upgrade would grant the armor boost when hitting a friendly guardian.
E/RB // FROST PATH
Frostbite upgrade: Fixed a rare bug where taking the upgrade would cause "Freeze" text to spam on the screen.
F/LS+RS // BREATH OF FRIGID AIR
Fixed a bug where the final breath attack could hit the guardian wound.

E/RB // FLASHDANCE
Electric Storm upgrade: Fixed the skill description text, which stated that it dealt a higher amount of shock damage than the upgrade actually provided.

Q/LB // ELASTIC OOZE
Reduced the base damage of Elastic Ooze from 137 to 75 damage.
Elastic Ooze now deals damage to all enemies hit with the initial impact, rather than just the enemy hit directly with the flask.
E/RB // HEALING WATERS
Healthy Glow upgrade: No longer causes enemies to see green circles around heroes with the healing aura. While allies will still see them, enemies will see a neutral white circle.

Despite being relatively difficult to learn and master, Vadasi was particularly overpowered at higher levels of play. These changes are meant to make it harder for her to self-sustain and deal damage while avoiding too many changes to her ability to heal and support her allies.
GENERAL
Reduced Vadasi's base health from 2250 to 2050.
LMB/RT // RAY OF LIGHT
Succour upgrade: Adjusted the healing provided per orb from 15% to a flat 20 hp/s. This is a reduction of about 2 hp/s for one orb, 8 hp/s for two orbs, and 18 hp/s for three orbs.
RMB/LT // SMITE
Reduced the base beam damage by 15%
Meltdown upgrade: Fixed a bug which prevented the burning from being applied by Smite if used with an orb.
Q/LB // DIVINE WIND
Reduced the base healing per second from 50 to 40 hp/s, or 100 to 80 hp/s with orbs.
A Foment of Prayer upgrade: No longer increases the cooldown of the skill if you use all orbs.
Holy Gust upgrade: No longer reduces the cooldown of the skill if you push an enemy. Instead, it now grants focus if you successfully push an enemy.
E/RB // DEVOTION
Holy Wrath upgrade: Fixed a bug which would prevent allies from gaining the 100% crit chance bonus.
SKILL SPECIALIZATIONS
Divine Light specialization: Reduced the health gained per second from 75 to 60 hp/s, or 150 to 120 hp/s with orbs.

LMB/RT // ARROWED
Piercing Arrows upgrade: Fixed a bug where this upgrade would reduce the damage dealt by the center arrow.
RMB/LT // POISON SPORES
Acute Poison upgrade: Fixed a bug where hitting an enemy directly would not poison nearby enemies.

RMB/LT // SPLASH KICK
The 3 second cooldown on Wu's
Boundless Energy
skill felt a little short - particularly since you were able to chain a jump attack after it for a respectable amount of damage and utility. As such, we've reduced the base cooldown to make the dive attack feel a little more worthwhile.
Reduced the base cooldown of the Splash Kick skill from 9 to 8 seconds.
Boundless Energy upgrade: Increased the cooldown of the upgraded skill from 3 to 4 seconds.